Tee Up Manual Golfing Machine
TEE UP is an Australian manufacturer of a unique golf ball dispenser system, where golf balls are automatically teed-up for the next drive with a foot pump. The system is used extensively at commercial golf driving ranges throughout Australia and New Zealand.
These machines are exceptionally reliable and cost effective. They have been installed in commercial golf driving ranges in Australia & New Zealand for the past 5 years, with great success and client satisfaction - see testimonials.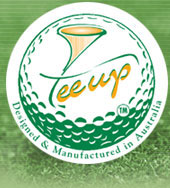 | | |
| --- | --- |
| | Reliability |
| | Low purchase cost |
| | Low maintenance cost |
| | Easy to use |
| | Increased ball turn up to 50% |
| | Tee height easily adjustable |
| | Simplicity of maintenance |
| | Tee change fast and simple |
| | High level of end-user satisfaction |
| | Left and right hand machines available |
| | Distributors in Australia and New Zealand |
| | Factory tested for superior mechanical reliability |
| | Fully tested on commercial golf driving ranges |
| | 12 Months full warranty |